G2 Pro Electric Scooter
£719.99 £819.99
Unavailable
---
G2 Pro Electric Scooter - G2 Pro is backordered and will ship as soon as it is back in stock.
The world's most popular electric scooter, improved by EnviroRides. The new G2 Pro Electric Scooter is supported by a 1000W brushless motor which incorporates the use of Dunlop Bearings, the world's most reliable manufacture of high-performance mechanical components. Get ready to reach speeds of up to 35mph and ranges of 35 miles.
The G2 Pro Electric Scooter has a lightweight aluminium scissor frame which can load up to 120kgs. The G2 Pro Electric Scooter frame is supported with front and rear shock absorbers, 10'' pneumatic tyres and responsive disc brakes, all coming together to provide great traction and a seamless ride on a variety of terrain.
Looking to stand out in a crowd? A unique feature to the G2 Pro Electric Scooter is the side lighting running along the baseplate of the scooter, which is a total showstopper.
Wanted some added security? Get our G2 Pro with an incorporated ignition set so that your beloved eScooter can only be used with your unique key.
Couldn't load pickup availability
Features / Specifications

LCD Heads Up Display
3 Speed Modes: 11mph - 20mph - 35mph
Integrated Front and Rear Lights
Electronic Horn
Phone Holder
Quick Folding Mechanism
Side Light Display
Kick Stand

Power: 1000W Brushless Motor | Dunlop Bearings Approved
Battery: Lithium Ion 48V
Charging: 5-7 hours
Range: 30-35 Miles | Optimum Conditions/Settings
Max Speed: 28-30mph | Optimum Conditions/Settings
Tyres: 10'' All Terrain Tyres
Max Load: 120 kg
Weight: 18 kg
Rides 20° Inclines
IP54 Rating
1-Year Manufactures Warranty

Please note that all the specification for this scooter are based on tests at optimal conditions. Speeds and distances may vary depending on rider's weight, battery level, terrain, weather and temperature. Additional weight can see a reduction of up to 5-10% on listed specifications.

Electric scooters are not to be used on footpaths, cycle lanes or roads in the UK. It is the complete responsibility of the customer to ensure that you operate your e-scooter within all country and local laws. The customer assumes all liability and risk associated with the use of electric scooter products and holds EnviroRides and all those associated free from any liability caused by their use.

EnviroRides highly advise the use of safety equipment at all times while operating any of our products.
All UK Mainland & NI orders placed before 10:00am will be dispatched the same day. All orders placed after 10:00am will be dispatched the next working day. All orders are shipped with next working day delivery, although this does not guarantee next day delivery.

Please allow 1-3 working days for all orders.  This excludes weekends and holidays

Orders will be dispatched to the shipping address provided by the customer at the time of purchase. Please note, EnviroRides is not responsible for any lost orders due to incorrect shipping details provided. Please double-check, if you notice a mistake then please contact us immediately at help@envirorides.co.uk, so we can inform our trusted couriers.

Our trusted couriers have been instructed not to leave EnviroRides orders in safe places. If you wish for your order to be left at a safe place, then please contact us at help@envirorides.co.uk, so we can personally inform our couriers. Alternatively, you can arrange for your order to be left with a neighbour via our couriers' website provided once dispatched. Please note, EnviroRides holds no liability for any loss or theft of orders left in "safe places". A signature is required upon delivery of the goods.
Max Load
120 kg
Battery
48V 15Ah Lithium-Ion
Max Speed
30 - 35 mph
Range
30 - 35 miles
Charging
5 - 7 hours
Tyres
10" All Terrain
SAFE & SECURE
Your payment information is processed securely. We do not store credit card details nor have access to your credit card information.
Buy now and pay later with Klarna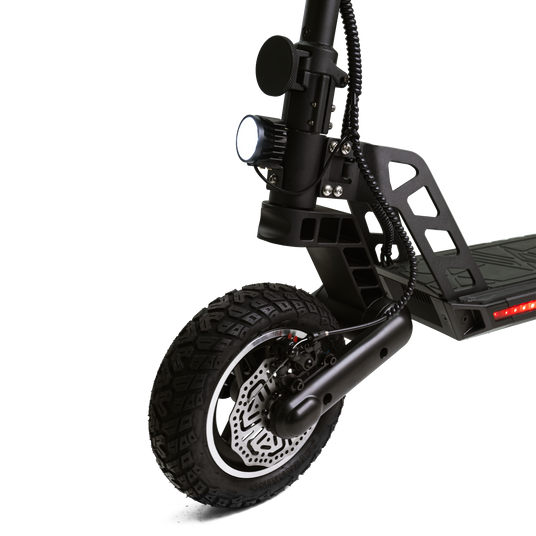 Responsive Disc Brake System
Enjoy reliable and powerful braking from the disc brakes. The 160 mm front and rear discs offer powerful braking and smooth modulation for optimum control.
Safety First
Safety is key, therefore we've integrated our ignition and voltage set to add a layer of security to your beloved eScooter.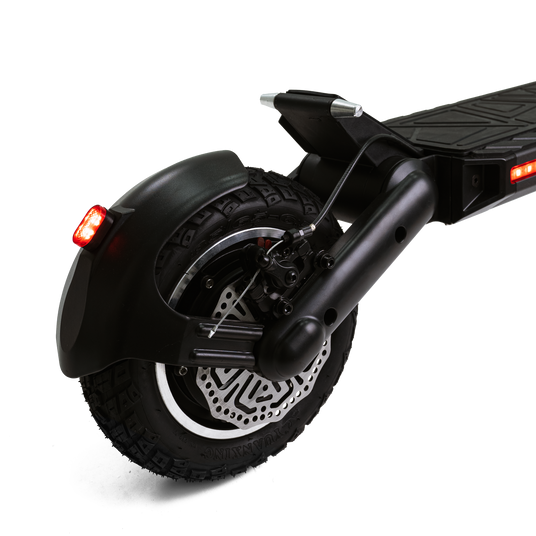 Bright LED Brake Light
Supported with a super bright LED rear brake light to ensure that you can be seen when out and about.
MOST FREQUENT QUESTIONS
What does my order come with?

All order are dispatched with a user manual, charger, universal toolkit and phone holder.
Do you offer free shipping?

We offer free shipping for all eScooter and eBike orders being shipped to a UK or N.I address. For shipments outside the UK, please contact us via the Contact Us page.
How long will my order take?

Orders placed Monday – Friday before 10am will be shipped the same day, orders placed after 10am will be shipped the next day. Orders after 10am on Friday will be shipped the following Monday. All orders are dispatched with next day delivery, although this does not guarantee delivery. Please allow 1 - 3 working days for delivery.
What is your return policy?

We allow returns within 30 days from date of delivery. Products must be unused and returned in the original packaging provided with all the original components (charger, manual, phone holder etc) and less than 5 km added to the odometer. If you wish to return within 30 days, you will be charged a fixed return shipping fee, the fee will vary on the model. For our full return policy, please see Returns and Refunds. To set up a return, please contact us via the Contact Us page or complete our Returns & Refunds Process Form.